The Cinque Terre are surrounded by woods overlooking the sea. This thick woods are cutthrough only by rocky and narrow pathsway.
Here the Mediterranean scrub is rich with indigenous plants that release in the air a number of peculiar aromas, scents and flavours.
Among the many wild fragrances present in that environment the ones that have inspired us the most are: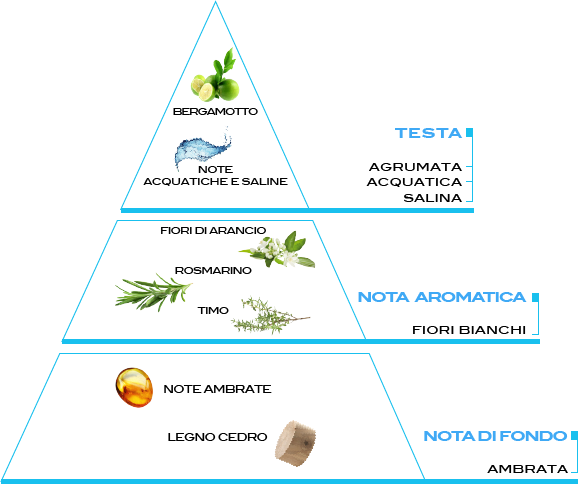 Thyme – Thymus
Mimosa – Acacia dealbata
Crespolina Ligure – Santolina Ligustica
Eagle Fern – Pteridum aquilinum
Montpelier Cistus – Cistus monspeliensis
Tree Spurge – Euphorbia dendroides
Centaurea di Venere – Centaurea veneris
Indian Fig – Opuntia ficus indica
Olive tree – Olea europaea
Ipocisto - Cytinus hypocistis
Red Valerian - Centranthus ruber
Strawbweery tree - Arbutus unedo
Bay Laurel - Laurus nobilis
Giant Crocus – Crocus vernus
Broom - Genista salzmannii
Myrtle - Myrtus communis
Primrose - Primula vulgaris
Grape vine - Vitis vinifera
Rosemary – Rosmarinus officinalis
Lavender - Lavandula
Lemon - Citrus × limon
Pino Marittimo - Pinus pinaster
Pino di Aleppo – Pinus halepensis
Holm oak - Quercus ilex
These natural flavours get then tangled up, as in a particular kind of magic, with the scent of the sea and salt in the air to create its own unique perfume, unforgettable to anybody that has ever walked through these lands.
The richness of these plants and natural scents has inspired us to create a natural perfume that wants to be a tribute to Nature while leaving artificial chemicals to the Chemists. As a direct consequence of this choice, some small residues and deposits at the bottom of the bottles can occur.
Don't worry, it just shows you it is natural, please shake the bottle and the deposit will disappear. Having drawn our list, we then proceeded to consult a professional maître parfumeur.
He helped us to chose and to mix and in the end to create a few different possibilities for the final product. All of which equally interesting.In order to make the final choice we involved our friends and colleagues in a sort of game; asking them to try out our favourites propositions (the ones that we thought were recalling the Cinque Terre at best) and to accompany their preference with a few words stating what that particular perfume was remembering them of.
We did all this to be sure we were choosing something that would be universally appreciated. It was listening to all these fabulous people comments and valuable suggestions that... Ægua de 5 Tere was finally born!